Sewer Repair in West Covina, CA
When it comes to sewer line dilemmas, you need a team that not only has the expertise but also understands the importance of delivering reliable results. The professionals at High Speed Plumbing offers a great selection of services for our clients including sewer line installation, sewer line cleaning, sewer repair, and trenchless sewer line replacement in West Covina, California, and surrounding cities. Our unparalleled commitment to excellence and relentless drive to exceed customer expectations has cemented our reputation as the go-to choice for all your sewer line needs. Discuss your unique needs with our friendly staff and find out what we can do to help you recover from urgent plumbing problems.
Locally Owned & Operated
24-Hour Emergency Service
Never Overtime Charge. Flat Rate Pricing

1,000+ 5 STAR Reviews
The Importance of a Clean and Functional Sewer Line
A properly functioning sewer line ensures the efficient and hygienic disposal of wastewater, preventing unpleasant odors, unsightly backups, and potential exposure to harmful pathogens. Proactive pipe cleaning and repair services can significantly extend the lifespan of your plumbing system, reducing the likelihood of costly, large-scale damages or replacements. Taking the necessary steps to keep your sewer line in optimal condition not only protects your property from water damage and health hazards but also contributes to a more comfortable living environment.
Symptoms of Sewer Line Damage
Detecting sewer line damage early is necessary to avoid extensive repairs and potential health risks. Common symptoms of sewer line damage include persistent foul odors emanating from drains, slow-draining water or recurring clogs, gurgling sounds in the plumbing system, and the unexplained presence of damp patches or lush vegetation growth in your yard. An increase in rodent or insect infestations around your property could also indicate a compromised sewer line. If any of these signs are observed, consult with a professional plumber to promptly diagnose and address the issue. Timely intervention can mitigate further damage, help you save on costly repairs, and ensure the continued safety and functionality of your plumbing system.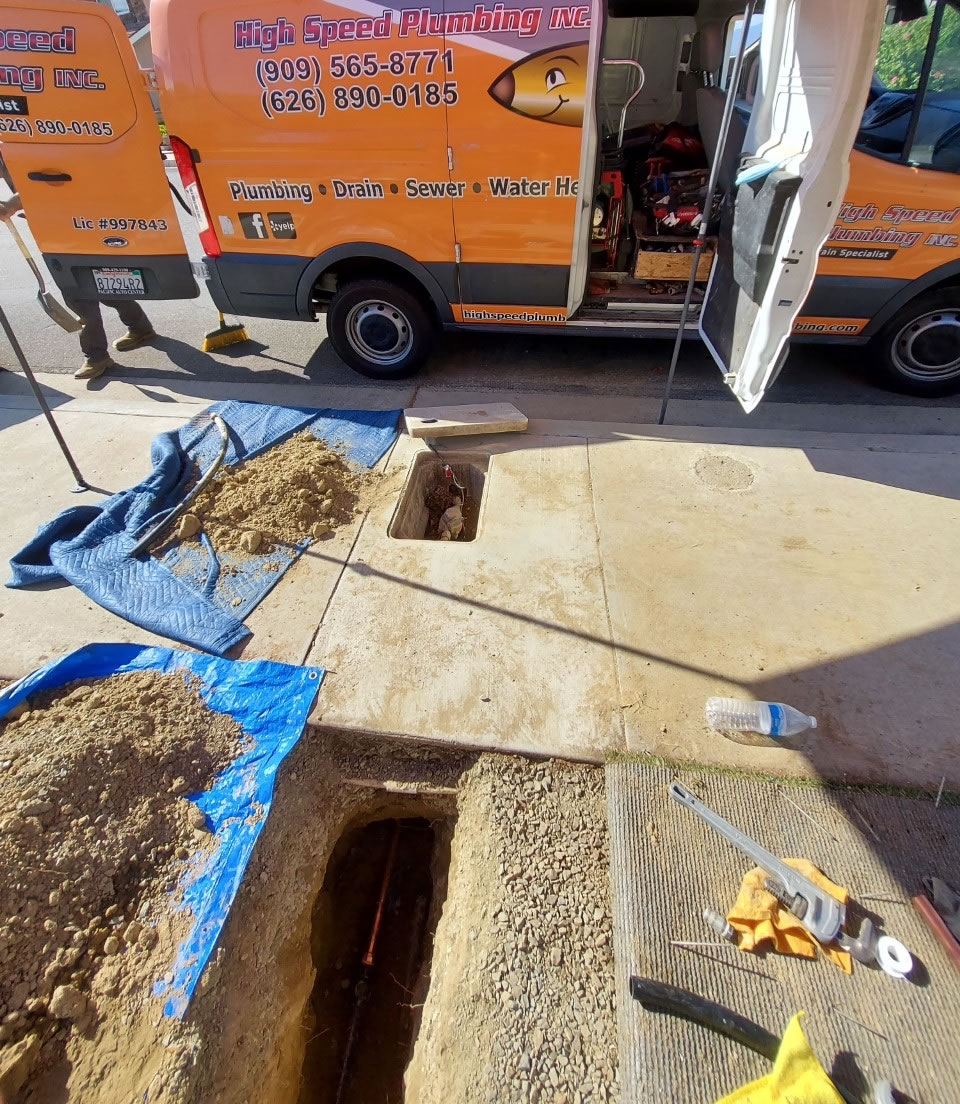 Fixing Your Sewer Line Without Digging Up Your Yard
Advancements in sewer line repair technology have made it possible to address damage without the need for invasive digging and costly yard restorations. Trenchless sewer line repair in West Covina provides minimally disruptive solutions for property owners seeking to preserve their landscaping while resolving plumbing issues. Pipe bursting involves breaking the damaged pipe while simultaneously pulling a new pipe into its place, whereas pipe relining utilizes a resin-coated flexible tube to create a new pipe within the old one. Both methods significantly reduce the extent of excavation required, allowing for a quicker and more cost-effective repair process.
Are You Looking for Professional Sewer Line Cleaning or Sewer Repair in West Covina?
Do you need help with your sewer line trouble? Call High Speed Plumbing today. Our team of specialists is devoted to addressing your sewer line concerns with accuracy and attentiveness. We take pride in providing swift, budget-friendly, and customized services that guarantee your satisfaction and the seamless functioning of your sewer system. Contact our office for more information or to schedule an appointment for your sewer line installation, repair, or trenchless sewer line replacement in West Covina, California.