Emergency Plumbers in Covina, CA
When you're looking for a plumber, you want to hire someone who is going to be honest, reliable, and knowledgeable. At High Speed Plumbing, we believe that every customer deserves the best experience possible. That's why we take the time to get to know our customers and their specific needs before we begin any work. We offer residential plumbing and commercial plumbing service in Covina, such as drain cleaning, clog removal, inspections, and emergency plumbing repairs. No matter what issues you're dealing with, our specialists will help find the right solution.
Locally Owned & Operated
24-Hour Emergency Service
Never Overtime Charge. Flat Rate Pricing

1,000+ 5 STAR Reviews
Emergency Plumbing Repair in Covina, CA
If you've just discovered a massive plumbing issue, the last thing you want to do is waste time. We know that with every minute you spend waiting for help, you're problem may be getting worse. Unfortunately, these situations can be made even worse when you can't find plumbers in Covina who will answer their phones. If you need an emergency plumbing repair in Covina, then we're here to come to the rescue. When you need a plumber fast, we can help. We are fast, efficient, and reliable. We have an experienced team of plumbers who will be able to get to your home or business quickly and get your pipes or plumbing fixtures back to normal as soon as possible.
Reliable Residential Plumbing Services for Homeowners
When your pipes are leaking, your toilet won't flush, or your sinks aren't draining properly, you need a plumber who can correctly diagnose the root causes of your plumbing issues and help you avoid repeat problems. No matter what type of plumbing service you need, our team of highly trained technicians is ready to get your pipes back in tip-top shape. We can handle everything from leaky faucets and clogged drains to broken water heaters and backed-up sewers. If you're experiencing issues with your plumbing system, don't wait, call us right away.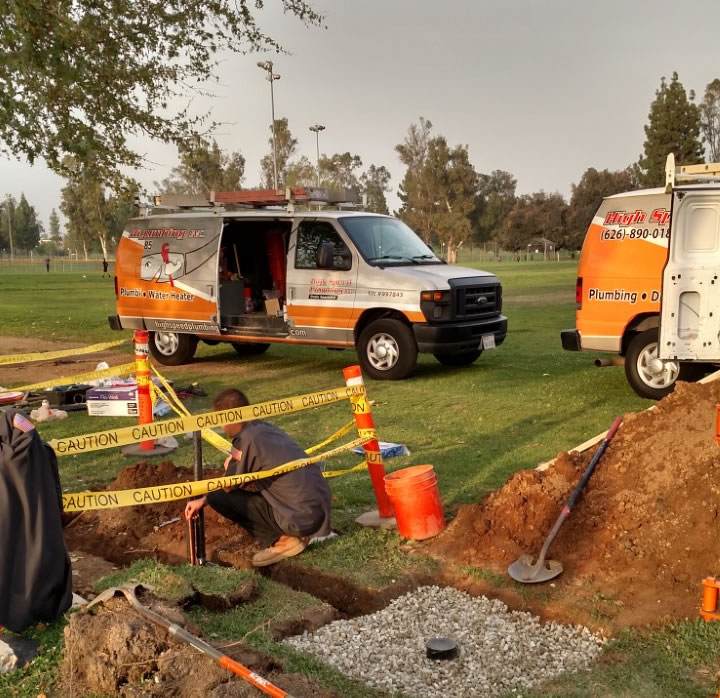 We Also Have Commercial Plumbing Services Available for Local Businesses
We know that plumbing issues are a hassle for any business owner. When you're trying to keep your doors open and customers happy, it's hard to focus on anything else. So we've made it our mission to help you get your plumbing system up and running again. Whether you've found a burst sewer line or need to remove a large clog, we will send a qualified plumber in Covina to your location with all the equipment needed to get your system back under control. We're committed to providing high-quality, reliable plumbing services so you can go back to managing your daily operations without distraction.
Do You Need a Professional Plumbing Service in Covina, California?
It's important to find a plumber you can trust and rely on. Let High Speed Plumbing make sure that your home or business is safe and functional once again. We offer drain cleaning, clogged drain line repair, sewer repair, trenchless sewer line replacement, pipe repair, leak detection, water leak repair, water heater repair, tankless water heater installation in Covina, CA area. We are always available to answer questions or address your concerns. We can also help to schedule a convenient time for any upcoming appointment with our experienced plumbers in Covina, CA, or another surrounding neighborhood.