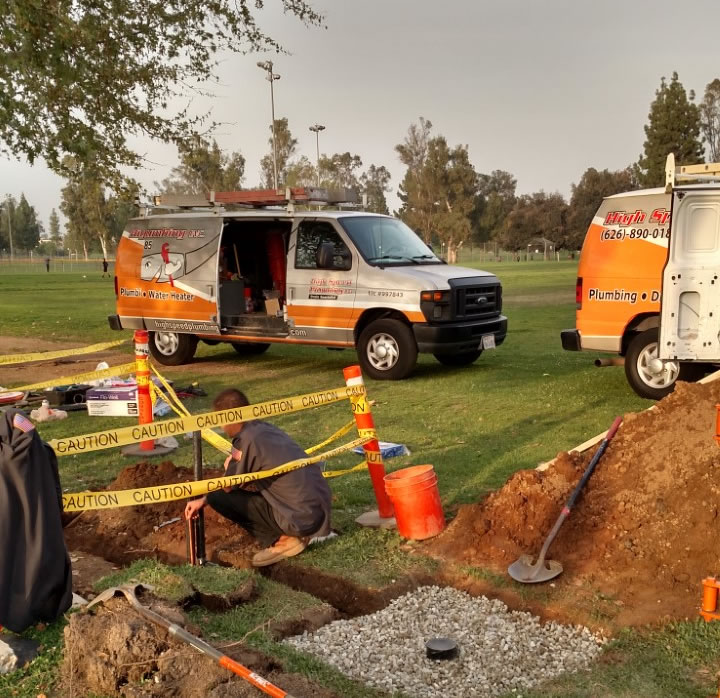 Trusted Plumbers in Pasadena, CA
Homeowners spend approximately $250-$300 to hire a plumber in Pasadena. While this may seem like a lot of money to spend on a plumbing service provider, it protects you from severe damages and costly repairs. Fortunately, High Speed Plumbing has tips to help you maintain an efficient commercial or residential plumbing system. Even if everything is running as expected, it doesn't mean you are in the clear. Our experienced plumbers inspect, diagnose, and address all problems you are likely to miss. The last thing any property owner wants is a frequent malfunctioning system. Let's look at some maintenance tips to help you avoid emergency plumbing issues.
Locally Owned & Operated
24-Hour Emergency Service
Never Overtime Charge. Flat Rate Pricing

1,000+ 5 STAR Reviews
Create a Maintenance Schedule
When you hire a plumber from a reputable plumbing service in Pasadena, they can help you schedule maintenance inspections to catch small signs of deterioration before they get out of hand. It is advisable to work with a trusted plumbing service so that we record all the inspections and plumbing repair projects for future reference. If you hire different plumbers in Pasadena for maintenance or plumbing repair jobs, you risk an incomprehensive report whereby minor issues are not addressed and monitored for recurrence.
Check for Leaks
Another vital tip for maintaining an efficient plumbing system is to keep an eye out for leaks. Although residential and commercial plumbing passes beneath the ground and inside the walls, DIY leak detection can be challenging. However, a shockingly high water bill may be a telltale sign of a potential leak. Leaks usually go undetected, and failing to provide repairs on time can lead to severe water damage. The most effective solution to detect leaks early is hiring a plumber to conduct routine inspections. We leverage industry-standard leak detection equipment to pinpoint the location of a leak, eliminating guesswork from the process.
Keep Drains Flowing
The most effective way to keep your drains flowing is to ensure the right waste goes down the toilet and drains. If inorganic waste builds up in your drain lines, you may see stagnant water in the shower or an overflowing kitchen sink. If a plunger cannot clear the blockage, you must hire a professional plumber in Pasadena. Many homeowners make the mistake of buying drain cleaners for effective plumbing repair in Pasadena. Our plumbers use innovative hydro-jetting equipment to ensure all the waste is pushed down without compromising your plumbing system.
Regularly Check Water Pressure
We all enjoy high water pressure when rinsing dirty dishes or showering. However, high water pressure speeds up the deterioration of plumbing components, and you may require plumbing repair in Pasadena sooner than you think. Although residential and commercial plumbing requirements vary, routine maintenance by a trusted plumbing service in Pasadena ensures your water pressure is safe without affecting efficiency.
If you follow these tips, your system will go the distance. Contact us at High Speed Plumbing and schedule a consultation with our team of plumbers in Pasadena. We aim to help our customers enjoy efficient plumbing systems, so you don't need to worry about emergency plumbing repairs and subsequent costs. Call us to schedule drain cleaning, clogged drain line repair, sewer repair, trenchless sewer line replacement, pipe repair, leak detection, water leak repair, water heater repair, tankless water heater installation and all other plumbing services in Pasadena, CA area.