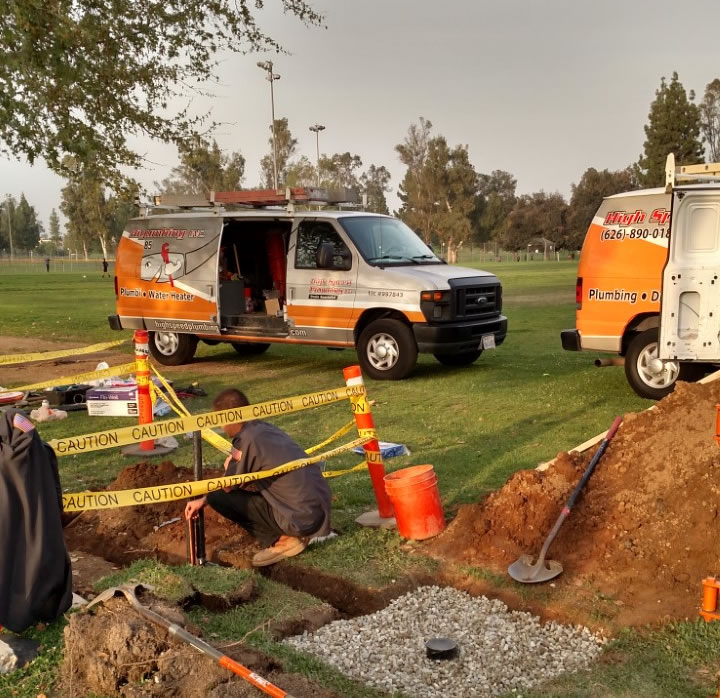 Reliable Sewer Repair in Alhambra, CA
Sewer repair is a challenging task that's tough to tackle. It's messy and can cause serious problems if not done correctly. For that reason, it's important that property owners hire the right person for the job. If you're struggling with sewer line issues, call High Speed Plumbing. We offer sewer line cleaning, new sewer line installation, burst piping services, pipe lining, and trenchless sewer line replacement in Alhambra, California, and surrounding locations. Our reputation is one of the best in the industry, and our technicians are highly trained professionals who will get the job done right and on time.
Locally Owned & Operated
24-Hour Emergency Service
Never Overtime Charge. Flat Rate Pricing

1,000+ 5 STAR Reviews
The Dangers of a Damaged Sewer Line
A damaged sewer line can mean a lot of different things. Sometimes there's just a crack in the pipe that needs to be repaired, but sometimes there are more serious problems. A collapsed pipe, for instance, can cause sewage to flood into your home and even into your basement if it's not fixed immediately. The longer you wait to fix a damaged sewer line, the more damage you're likely to incur, and the more expensive it will be when all is said and done. If you suspect that there might be something wrong with your plumbing system, don't hesitate to call a professional plumber immediately.
How Can a Camera Inspection Pinpoint the Cause of Your Plumbing Problems?
When you have problems with your plumbing, it can be hard to know where they're coming from. After all, the majority of your pipes are hidden in hard-to-reach locations. A camera inspection is one of the most useful tools for finding out the cause of plumbing issues. Plumbers use a small cable with a tiny high-definition camera that will record an image of what's going on inside your pipes. This can help take the guesswork out of troubleshooting important plumbing issues, which saves homeowners valuable time and money. In many cases, a repair isn't necessary at all, since recurring clogs can be caused by both pipe damage and buildup. It's possible that a professional sewer line cleaning service is all that's required to get your pipes to operate at their best again.
Benefits of Pipe Lining and Trenchless Sewer Line Replacement in Alhambra, CA
If a major issue is discovered, then a pipe repair in Alhambra may be necessary to restore the safety and integrity of your plumbing system. Yet, the prospect of a repair or replacement can scare many property owners. Thankfully, the days of digging up your entire yard are over. New trenchless methods have been developed that offer effective solutions without the invasive and time-consuming procedures of the past. Burst piping and repiping services are more cost-effective and environmentally friendly ways to get your plumbing system back to normal fast.
Do You Need Reliable Pipe Repair in Alhambra, California?
At High Speed Plumbing, we are committed to providing the best service for your sewer repairs. Our plumbers are fully trained and experienced in all aspects of sewer repair services, from drain cleaning to emergency pipe replacements. Contact our office to learn more about our services or to schedule a time for your next sewer line installation, repiping service, or sewer repair in Alhambra, California, or a nearby location.