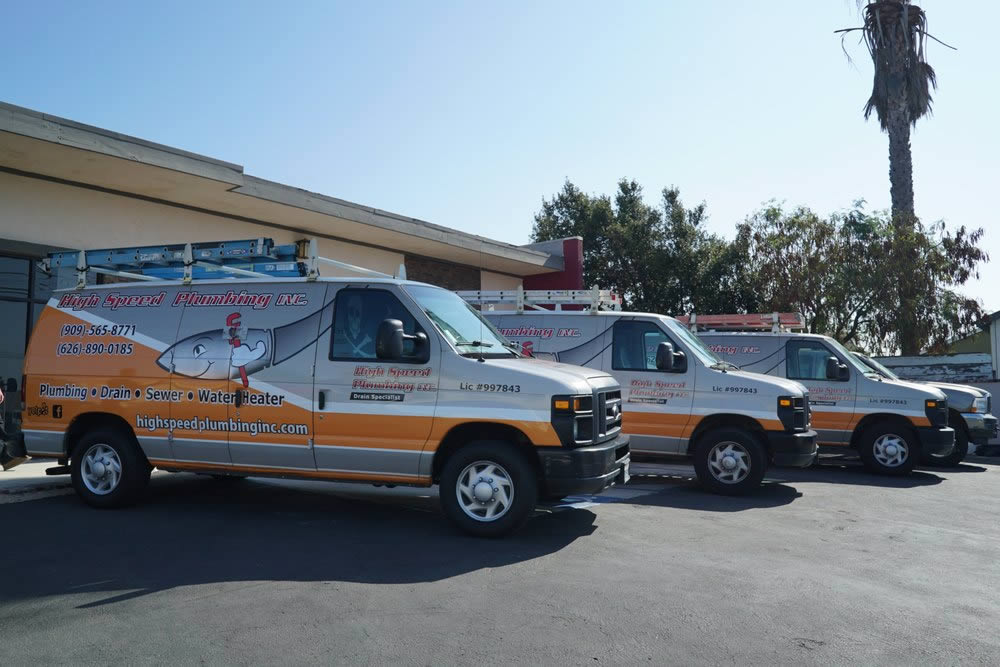 Drain Cleaning in West Covina, CA
You might not think about it much, but your drain is vitally important to the functionality of your home. When you flush the toilet or use a sink, the water has to go somewhere, and if your drains are blocked, it can cause a lot of headaches for property owners. At High Speed Plumbing, we want to ensure that your plumbing system is operating well at all times, which is why we offer a wide selection of premium services. Our offerings include drain line installation, drain line replacement, hydro-jetting, and clogged drain repair in West Covina, California, and nearby areas. Whether you need a quick clogged toilet fix, or require extensive pipe repairs or replacements, our team of plumbers will always be ready to put our tools to work for your property.
Locally Owned & Operated
24-Hour Emergency Service
Never Overtime Charge. Flat Rate Pricing

1,000+ 5 STAR Reviews
Common Signs and Symptoms of Clogged Drain Lines
If you're having trouble with your drains, you may be experiencing one of the following problems:
Slow drainage
Recurring clogs
Water backing up into sinks, tubs, and toilets
Foul smells coming from your drains
If you've noticed any of these symptoms and have not been able to resolve them yourself, it's time to call a professional. A plumber can check out your pipes and make sure they're in good working order. If there is a problem with your plumbing that requires immediate attention, you'll need someone trained in drain repair services to fix it right away.
The Importance of West Covina Clogged Drain Cleaning Services
Over time, hair, food scraps, and other organic matter can build up in your drains, which can lead to a clog. If this happens in your bathroom or kitchen sink, it can cause the water to back up and overflow onto the floor. This not only makes a huge mess, but it can also create water damage. A lot of well-meaning homeowners will attempt to remove these blockages with harsh chemical drain cleaners. These products are often ineffective and can actually damage your pipes and fixtures with repeated use. By investing in routine hydro-jetting and drain cleaning in West Covina, CA, owners can improve the functionality of their drain lines without harming their pipes or the environment. Professional West Covina clogged drain cleaning involves the use of high-powered water jets, which will blast away the buildup in no time, leaving your pipes refreshed and ready for action right away.
When to Schedule a Clogged Drain Line Repair or Drain Line Replacement
If you've been struggling with recurring clogs for a while, it's possible that your pipes have become damaged. Frequent blockages can be a sign of more serious plumbing issues like a cracked drain line, sewer line failure, or root growth. If this is the case, then a clogged drain line repair might be required to restore the health and function of your system. We offer a variety of drain line replacement and repair services that are non-invasive, so you can enjoy a reliable plumbing system without the hassle and expense of conventional excavation methods. We will provide a thorough camera inspection to pinpoint the exact cause of your blockages, and will work hard to find a solution that is tailored to your needs.
Do You Need Professional Clogged Drain Repair in West Covina, California?
When it comes to drain cleaning and repair services, you want to make sure that you are choosing the best company for the job. The specialists at High Speed Plumbing offer fast service, competitive pricing, and excellent customer service. Whether you need a clogged toilet fix or a new drain line installation, our plumbers can help. Contact our office for more details about our available services or to schedule your next appointment.