Drain Cleaning in La Puente
Have you recently considered checking your drains? Your drain is likely to be full of hair, grease, and other debris if you haven't had it cleaned in a while, which can cause clogs. Call High Speed Plumbing for a drain cleaning in La Puente if you notice a clog. We offer many plumbing services, including drain line installation and clogged drain line repair. If you would like assistance in other services as well, such as drain line replacement, call us and schedule an appointment.
Locally Owned & Operated
24-Hour Emergency Service
Never Overtime Charge. Flat Rate Pricing

1,000+ 5 STAR Reviews
Signs of a Clogged Drain
A common problem with many possible causes is a clogged drain. A toilet that does not flush is one of the most obvious indicators of a clog. This usually happens when a lot of tissue has been flushed down the toilet, necessitating a clogged toilet fix. Be careful not to flush anything other than your waste and tissue down the toilet. The trash can accommodate all other items. Another indication of needing a clogged drain line repair is a slow drain. A La Puente clogged drain cleaning might be your best option if you notice that the rate at which water drains from sinks or showers has slowed down. Horrible odors emanating from your drains are another indication. This could be an immediate result of food growth that has caused a clog to form in the drains over time. Call High Speed Plumbing to schedule your next clogged drain repair in La Puente.
Hydro-Jetting
Hydro-jetting is a method for drain cleaning that uses a special hose with high water pressure to clean your pipes. Before installing the hose, the plumber will first install a camera through the drain to ensure that the pipes are unharmed. The high-pressure water access that is provided by the hose when it is inserted clears the drain lines. Whatever is obstructing the lines breaks down slowly in this kind of water, and the substances are washed down the lines thanks to gravity. This is a significant approach to clogged drain repair in La Puente that leaves your lines looking brand-new and clean. Hydro-jetting should only be done by experts.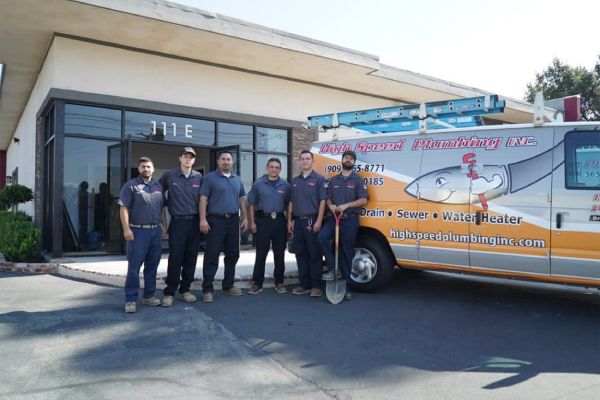 Maintenance
Your drains put in a lot of effort every day, and despite the fact that you may not be aware of everything that passes through the lines, they also have a breaking point. They are able to moderately support the oil and grease, but if they are not maintained, they will eventually fail. It is recommended that the drains be cleaned once per year. Drain cleaning should be done with regular maintenance, preventing major blockages. With regular maintenance, you can extend the life of your plumbing system, improve air quality, eliminate unpleasant odors from your drains, and enjoy a variety of other benefits and enhancements. For reliable La Puente clogged drain cleaning, choose High Speed Plumbing for your next clogged toilet fix.
High Speed Plumbing is the best choice if you're looking for a drain cleaning in La Puente. In addition to other top-notch services for any plumbing problem, we provide guaranteed services for drain line replacement and drain line installation.