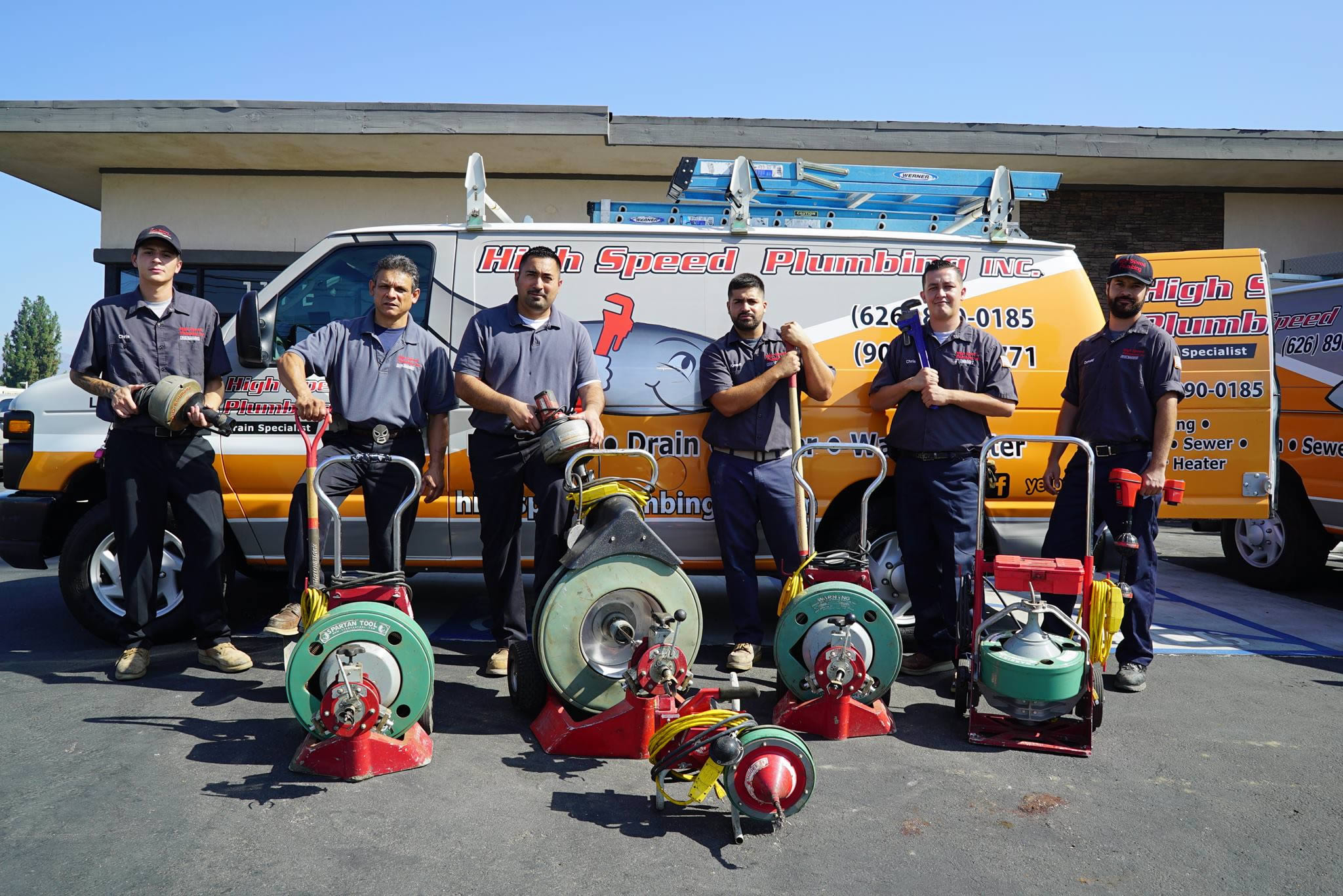 Drain Cleaning in Azusa
Smelling peculiar aromas from your drains or water isn't running as lavishly as it used to? These could be signs of a blocked drain, which needs to be fixed as soon as possible. High Speed Plumbing is a company that can help you with anything, from drain line replacement to drain line installation, along with services like clogged drain repair in Azusa and a clogged toilet fix. With drain cleaning techniques, for instance, hydro-jetting, our experts obtain the best results after they complete the work.
Locally Owned & Operated
24-Hour Emergency Service
Never Overtime Charge. Flat Rate Pricing

1,000+ 5 STAR Reviews
Signs You Need Drain Cleaning
If you suspect that your drain is blocked, there are a few warning signs to look for. Water that slowly evaporates indicates a blockage. Hair, oil, and food particles will eventually clog the lines over time. At that point, it starts to grow and eventually becomes blocked. A sluggish drain will change into a genuinely fomenting issue if you don't deal with the clog on time. Taking action as soon as you notice the problem will cost you money and cause more damage. Additional indications that you need a clogged drain repair in Azusa include your toilet frequently running over, a foul smell coming from the drains, changes in the flow of water, and strange noises.
A clogged drain line can be fixed at your home by our plumbers in Azusa, CA. You can count on our businesses to help you with clogged drain line repair and drain cleaning. We offer a variety of services, such as drain line installation and drain line replacement. High Speed Plumbing is the best choice for drain cleaning in Azusa; once you know that we will take care of your needs, you won't need to look for other companies that provide drain cleaning in Azusa.
Hydro Jetting
Hydro jetting is a technique used for Azusa clogged drain cleaning. A hose sprays high-pressure water through the holes and cleans your plumbing system. When a massive clog composed of dirt, hair, and other substances packed together is obstructing a pipeline, this approach is most effective. The plumber will first check the drain with a camera to make sure there is no damage. After verifying that no harm has been done, they insert the hose, which releases high-pressure water that gradually dissolves the blockage in the pipes. This is a good method for clogged drain line repair, but only a professional should do it.
Start Your Drain Cleaning
Call High Speed Plumbing the next time you need Azusa clogged drain cleaning. Our skilled plumbers are capable of carrying out a variety of services, including ones like a clogged toilet fix, effortlessly. We will be able to assist you quickly and easily due to the substantial amount of experience and equipment required for drain cleaning. To learn more about our services, give us a call or make an appointment as soon as possible.