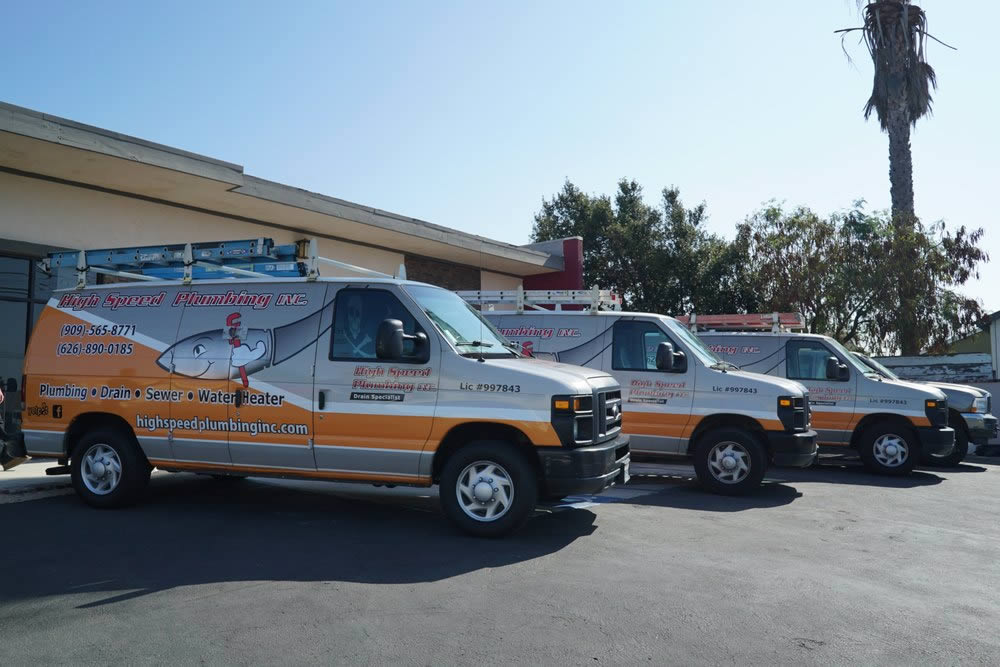 Drain Cleaning
Are your sinks taking forever to drain? Has your toilet started overflowing? If your drain line installation is giving you problems, then grab the phone and call High Speed Plumbing. We are proud to offer drain cleaning as well as clogged drain line repair and drain line replacement services in all areas of Pomona, CA. We serve residential and commercial properties alike, and our friendly representatives are available to take your call at any time of the day – or night! Call High Speed Plumbing for rapid response and quality service. We are ready when you are!
Locally Owned & Operated
24-Hour Emergency Service
Never Overtime Charge. Flat Rate Pricing

1,000+ 5 STAR Reviews
Help Your Drain Line Help You
Your drain line installation safely and readily carries away waste and wastewater generated by your home or business. Could you imagine doing all of that manually? Even the thought of it is gut-wrenching. If you want to avoid such a nightmare, then make sure to help your drain line help you. Here are some of our suggestions:
Install drain filters as well as a garbage disposal and grease trap if you cook heavily
Do NOT flush anything other than toilet paper, pee, and poo. Even too much toilet paper can be risky!
Keep scrap foods out of the kitchen sink – even if you have a garbage disposal
Store used fats, oils, and greases in a separate container to throw out later. Do NOT pour down the sink!
Rinse drains with hot water after extensive use or once a week
Clean drains with baking soda followed by baking soda once every few months
Schedule professional drain cleaning once every couple of years
These simple tips can save you from a big headache down the line – no pun intended! Keep your drain line flowing seamlessly by scheduling your drain cleaning in Pomona today. High Speed Plumbing is ready when you are.
Our Uniformed Plumbers Do It All
Sometimes, a clogged drain is more than just a clogged drain. For instance, invasive tree roots can cause both a blockage in AND damage to the drains. In such instances, drain cleaning is merely not enough.
Fortunately, our professional plumbers do it all. Our hydro-jetting service begins with a video inspection of the drain line. This is to pinpoint the blockage but also to check for any damage in the drain line. If the drains are found to be sturdy, then our plumber will blast the blockage with highly pressurized water capable of breaking through even tree roots and dried concrete. If the drain line installation is damaged, then our plumber will have to recommend a drain line repair or drain line replacement instead, because cleaning damaged drains would be pointless and counterproductive.
Emergency Service in Pomona Available
Do you need drain cleaning or clogged drain repair in Pomona NOW? You don't have to wait overnight to stop that overflowing toilet! Call High Speed Plumbing at any time of the day, or night, to speak with a live representative and request an urgent dispatch. Our uniformed plumbers and branded vehicles are on standby for your call now.